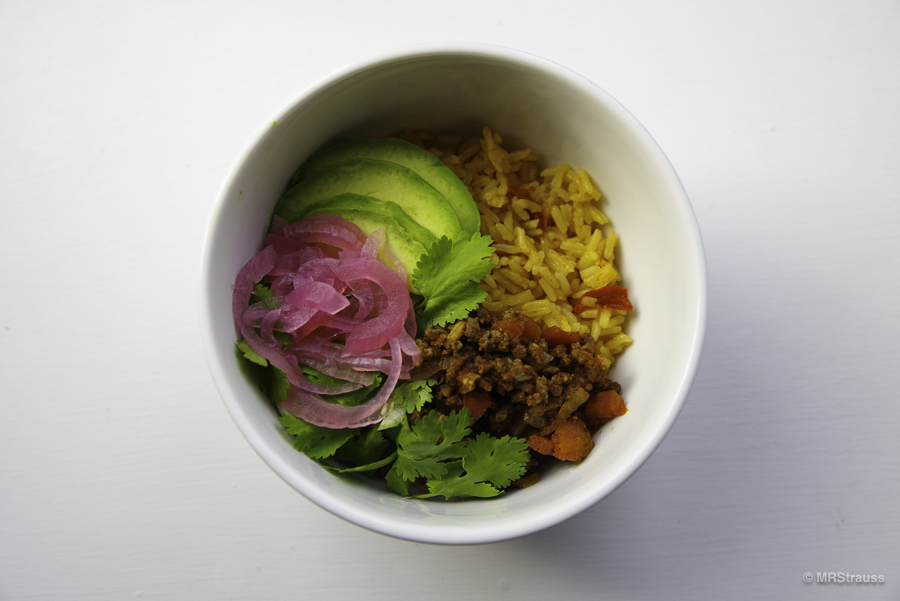 This inspired take on the traditional rice bowl comes from a trip to the Yucatán peninsula. After discovering these bright pink pickled onions (escabeche de cebolla) in Mérida, I needed a place for them. As with all my recipes, the ingredients here can vary— here, I've used ground beef. But it is just as good with shredded spiced chicken or beef, or beans. If you've got the time, you could even take this to the next level with Mayan style Cochinita Pibil, which is another dish I first had in Mérida. Cochinita Pibil is like pulled pork, but with a kick from sour orange juice instead of vinegar. There's a good recipe for this on rickbayless.com.
Work on the onions first because they need time to cool; you can also make them early in the day or days in advance. Thinly slice or roughly chop one medium size red onion and boil covered in water for two minutes or so, until they soften. Don't worry when you see their color fade. Drain the onions, place in a bowl big enough for them, and cover with white vinegar. Now the magic will happen: they'll start turning bright pink.
Get a pot out for the rice. Here, I am making around five cups cooked, I think. Add some oil to the pot, I use about a tablespoon of olive or canola oil, and a teaspoon of salt. You can set this on low while your finely chop a half of a yellow onion. Saute the onion until it's kind of soft. While this is going on, finely dice a medium size tomato or two small ones, or half a ginormous one. When the onion is done, add about a teaspoon each of cumin and chili powder and let that warm up a bit. Add the tomato and saute for a minute. Stir in two cups of rice— I've been using Jasmine rice here—and three cups of water and bring to a boil; then cover and set on low for seventeen minutes. This is the perfect rice timing I got from one of my first cookbooks, a 'learn to cook' cookbook by Craig Claiborne and Pierre Franey, but once I accidentally just turned the burner off and it sat for the seventeen minutes on its own heat and it was fine. Who knows, every time I think something is a 'must,' I find it may not be so. But the general rule is a cup and a half of water for every cup of rice and seventeenish minutes. You could also make cilantro lime rice. Or you could also use Near East Rice Pilaf Spanish Rice to cut down on prep time; two boxes would equal about what I have here. Put the bowls on the stove to warm up.
Once the rice is on its own, start browning your ground beef while you chop one yellow onion and a few cloves of garlic. Add the onions and garlic to the meat and brown everything up a bit before adding around a tablespoon of chili powder and a teaspoon of cumin. Give the spices a minute to bloom before adding a 14.5 (why isn't it 15 ounces?) can of diced tomatoes and their juice. Bring to a boil and then let this simmer while you get the toppings ready. I stir it every few minutes; sometimes I need to add a little water. Toppings can be a lot of things here: any kind of lettuce, chopped tomatoes, roasted tomatoes, any kind of salsa, cilantro leaves, sliced jalapeno peppers, roasted peppers, shredded cheese, gosh what else? Don't forget the pickled onions. I'm sure there's other stuff. Oh, lime quarters (maybe not with the pickled onions). Avocado. Beans too. I'm allergic to legumes so I can't really recommend what kind, but they could be in addition to or instead of the meat. Margaritas and mojitos pair well with this. Duh. But Mexican Coke in the green bottle is awesome. Wait! Horchata! That would be most awesome.
For this four person version, you'll need:
• Ground beef (a pound or so)
• One red onion (medium size or however much pickled onion you want)
• Two small/medium yellow onions (one for the rice, one for the beef)
• Medium tomato for the rice
• Two cups Jasmine rice
• Cumin
• Chili powder
• Garlic (two or three cloves should be good)
• Diced tomatoes (14.5oz can)
• Iceberg lettuce (to me, iceberg tastes the best here since it is cool and kind of sweet)
• Cilantro leaves (I pluck the leaves unless the stems are really tender)
• Cheddar Cheese
• White vinegar (around a cup)
• Salt
• Olive or canola oil
Equipment I used:
• Three quart saucepan for the rice
• Twelve inch frying pan for the meat
• One quart saucepan for the onions
• Glass bowl with lid for marinating the onions
Notes: I'm starting to buy some different chili powders. Just like olive oil, there are a lot of different flavor notes in them: different kinds of smoky, some have citrus flavors, and others are almost sweet, some are H-O-T. I find them in local Hispanic markets, where I also see a lot of whole dried peppers. I haven't advanced to grinding my own, but one day I'll probably give that a try just to see if it makes a difference. Whole Foods has some different ones now. I use grass-fed ground beef all the time now. In this dish, you can't really taste the difference, but you can appreciate the tender texture of the grass-fed beef. I also want to try cotija or queso blanco. I've made this with jack cheese, but I wasn't crazy about the flavor.
Copyright © 2015 MRStrauss • All rights reserved