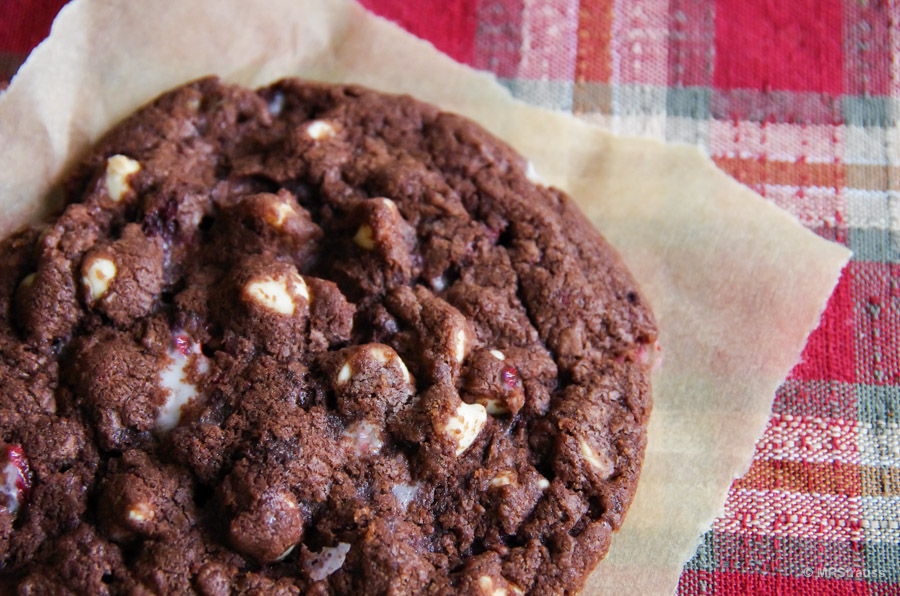 Common name: White chocolate chip mint chocolate cookies.
I wasn't going to put any recipes on my blog besides the Bentosh series, but then my younger daughter and I made these cookies. I have to put this here in case my house burns down or the armageddon happens or some other tragedy so I can insure it will be safe somewhere in cyberspace.
So, ok, this was my younger daughter's idea for a holiday cookie, based on her love of peppermint bark, that we cobbled together from various cookie recipes. I always like to say you can use whatever brands you want because I don't want to be a food snob, but the truth is the ingredients really make a difference, especially when it comes to desserts. I learned this many moons ago when I first made Georgetown Cupcake's chocolate ganache cupcake with regular butter, Hershey's cocoa and chocolate chips. I couldn't figure out what was so great about these cupcakes. For some reason, I decided to make them with their recommended ingredients: Plugra butter, Valrhona cocoa, Callebaut chips, the whole deal. And WOW! So it's not that they won't be good without all these special ingredients, but they won't be great. I think it was mostly the chocolate that really made a difference, so I didn't sweat it here when I realized I had only regular salted butter.
6.5 ounce bag of starlight mints or box of candy canes
8 ounces of butter (two sticks), I used regular salted butter this time because that was all I had
1/4 teaspoon salt if using unsalted butter
1 cup sugar
2/3  cup dark brown sugar, packed
2 large eggs
2 cups of flour (I used Gold Medal)
2/3 cup unsweetened cocoa (I used Guittard Cocoa Rouge)
1 teaspoon baking powder
12 ounces of white chocolate chips (I used Guittard Choc-Au-Lait)
Get the butter and eggs out to soften and get up to room temperature (this usually takes a half hour or so).
Get the oven going at 350˚.
Line cookie sheets with parchment or silicone mats (such as Silpat) if needed.
Bash the candy into something around the size of Red Hots or M&M Minis. Careful here. The first time I used a rolling pin and now it is covered in pock marks. I had better success placing the candy between two layers of heavy duty zip lock bags and using the flat side of a meat mallet on a plastic cutting board. I have also used a food processor, but that just turns it to mostly dust (it also gets the machine really hot and etches the bowl).
Combine 2 cups of flour, 2/3 cup cocoa, and 1 teaspoon baking powder. Set aside. I don't usually sift the dry ingredients together unless it's a cake or cupcake.
With a stand or hand mixer, cream together 8 ounces of butter, 1 cup sugar, and 2/3 cup brown sugar. Scrape down as needed. Add the eggs. Mix until all mixed together.
Scrape down the bowl and begin adding the dry ingredients in three additions. Scraping down between each addition. This is to help incorporate the dry ingredients and also to keep you from having a flour bomb go off.
Once everything is thoroughly mixed, fold in the crushed candy and white chocolate chips.
Now you can decide what size you want the cookie. I used a large ice cream scoop that holds a ⅓ of a cup. I baked 5 cookies at a time on a large baking sheet. This made a 'monster' size cookie between 4 and 5 inches across. I baked these for 14 minutes. I did one sheet at a time, although if I would have turned the convection on, I could have done three sheets at a time.
Let cool slightly and eat before anyone else sees them.
Ugh. I'm going to track this over the years: the Guittard white chocolate chips are down to 11oz.
Copyright © 2017 MRStrauss • All rights reserved