September 2014, Parx Racetrack
Thirteen races on the day's card were highlighted by the grade I Cotillion for three-year old fillies and the grade II Pennsylvania Derby for three-year old males. The races attracted some of the best horses from the two divisions, and therefore, about 16,000 people. I was at the Haskell Invitational in the summer and saw Untapable, the top 3-year old filly and Cotillion favorite, and Bayern, who won the Haskell and would be running in the PA Derby. Most exciting for me though and really the reason I made the trip was to see my favorite racehorse, California Chrome.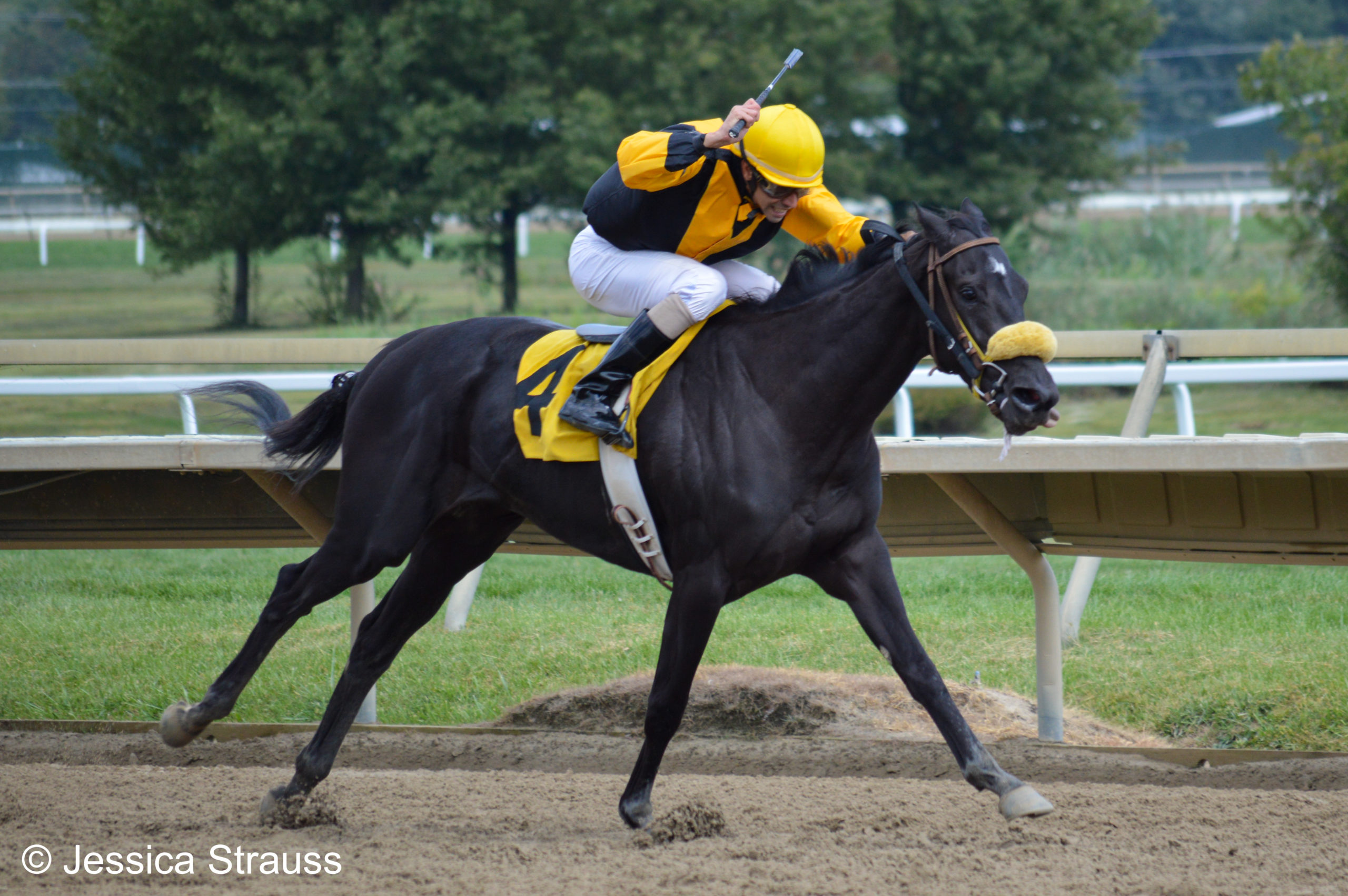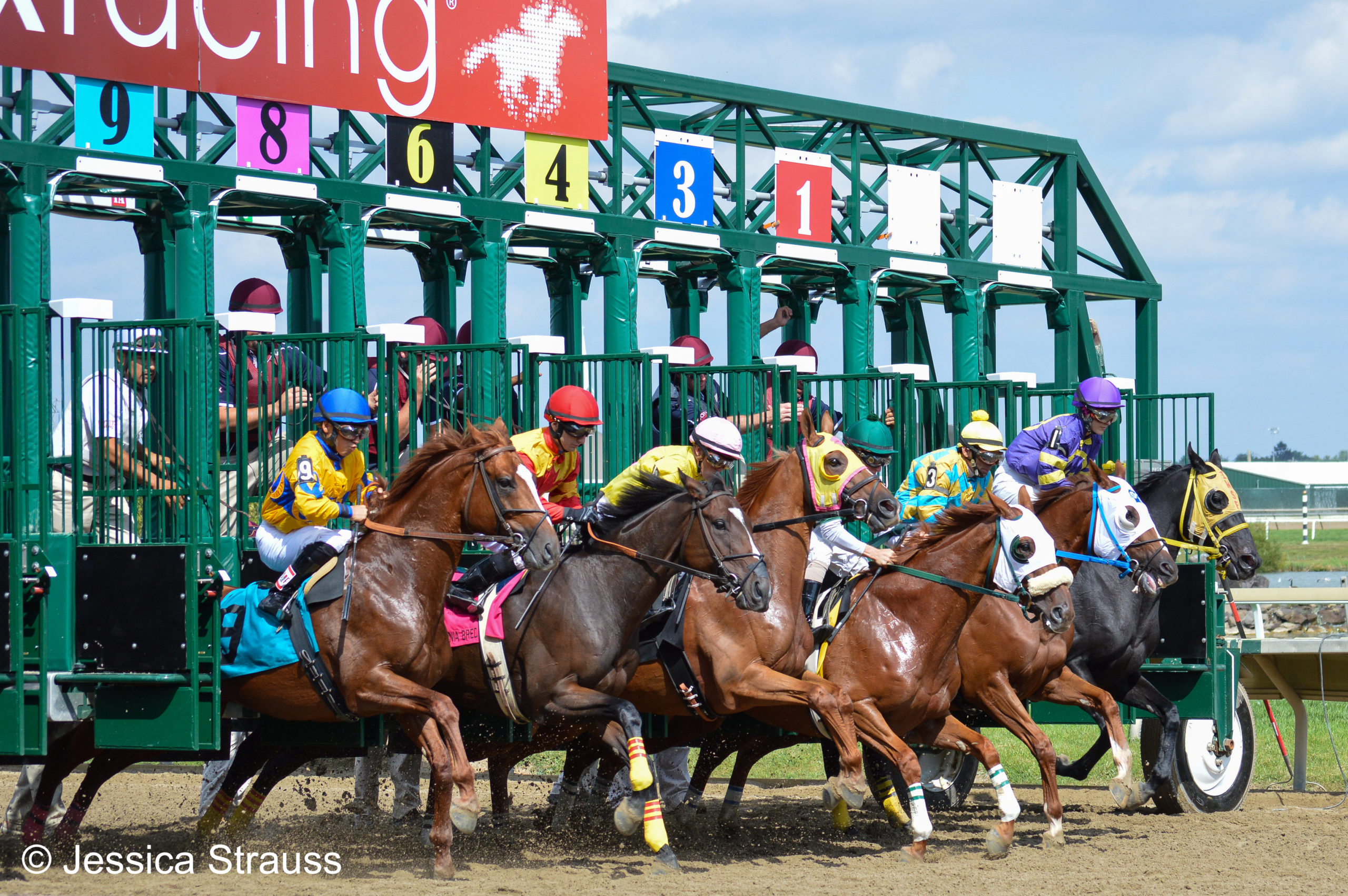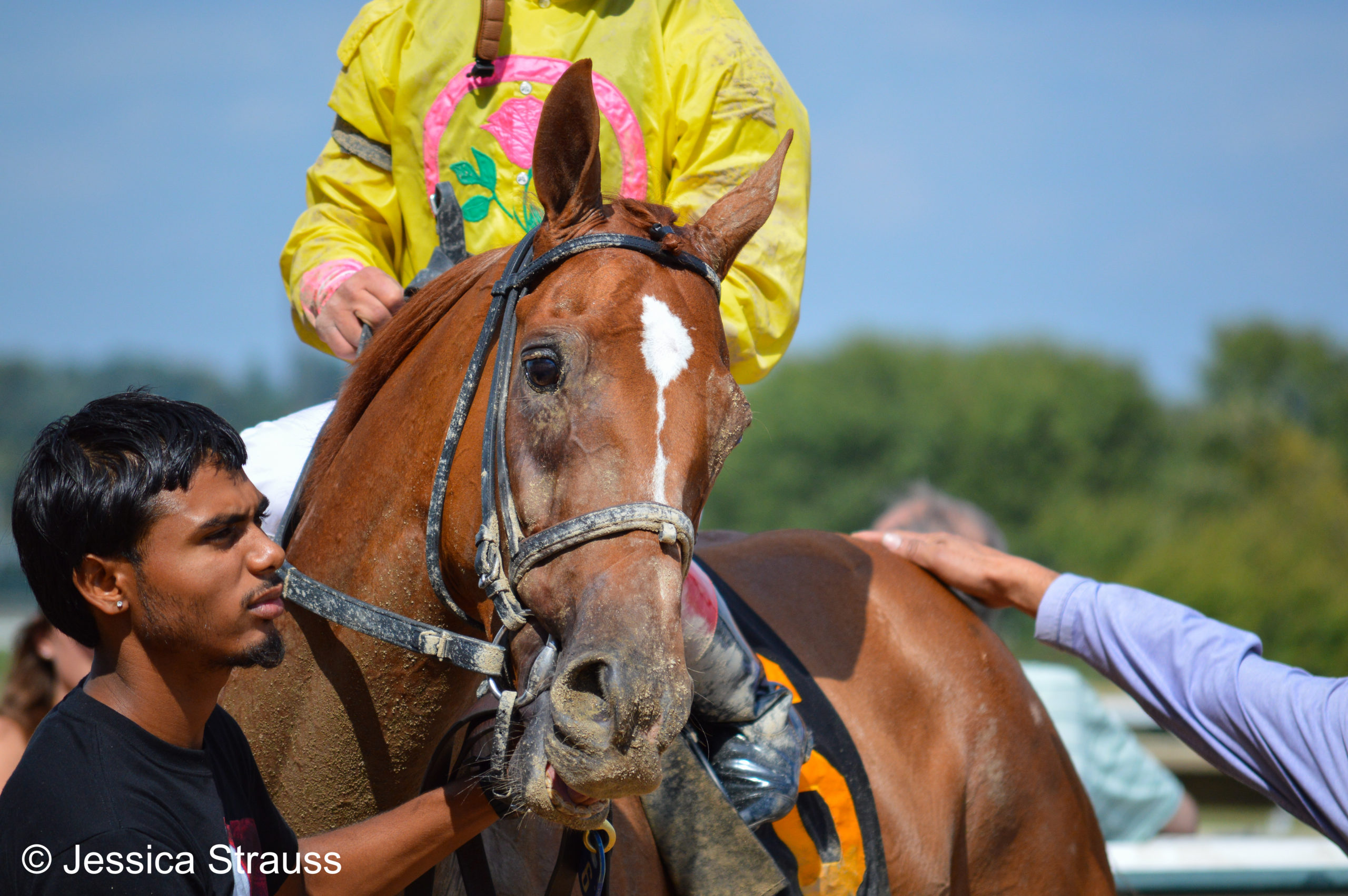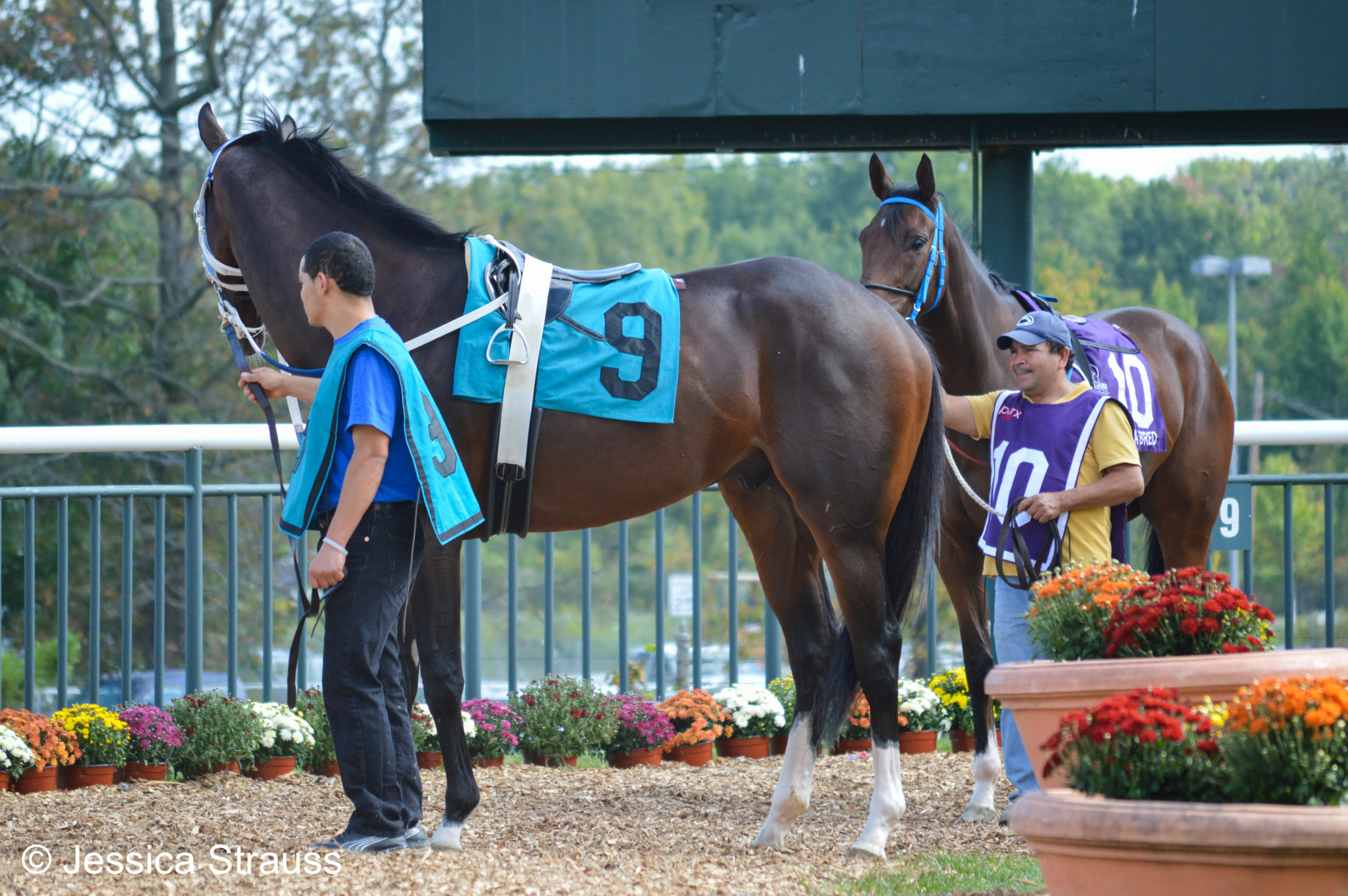 The Cotillion Stakes
I tried to get good photos of the Cotillion, but unfortunately was not very successful. The field of eight (#9, Stopchargingmaria, was scratched) got off smoothly. Jojo Warrior had the lead in the upper stretch, but Untapable kept bearing down on her. She hadn't won that way since her victory in the Pocahontas Stakes in 2013 (when she closed in on Stonetastic in the same fashion). The two went eyeball-to-eyeball for a dozen strides or so, but Untapable, urged on by Rosie Napravnik, passed by Jojo Warrior like a champ. Jojo Warrior faded in deep stretch, allowing Sweet Reason (#2) to grasp second money. Untapable, after facing the boys in the Haskell, found the winner's circle again!
In the paddock stood two statues, painted to the silks of last year's Cotillion and PA Derby winner. Close Hatches won the Cotillion and Will Take Charge won the PA Derby. Close Hatches was unbeaten so far in the year, while Will Take Charge had been retired due to a minor injury after good performances in big races.
The Pennsylvania Derby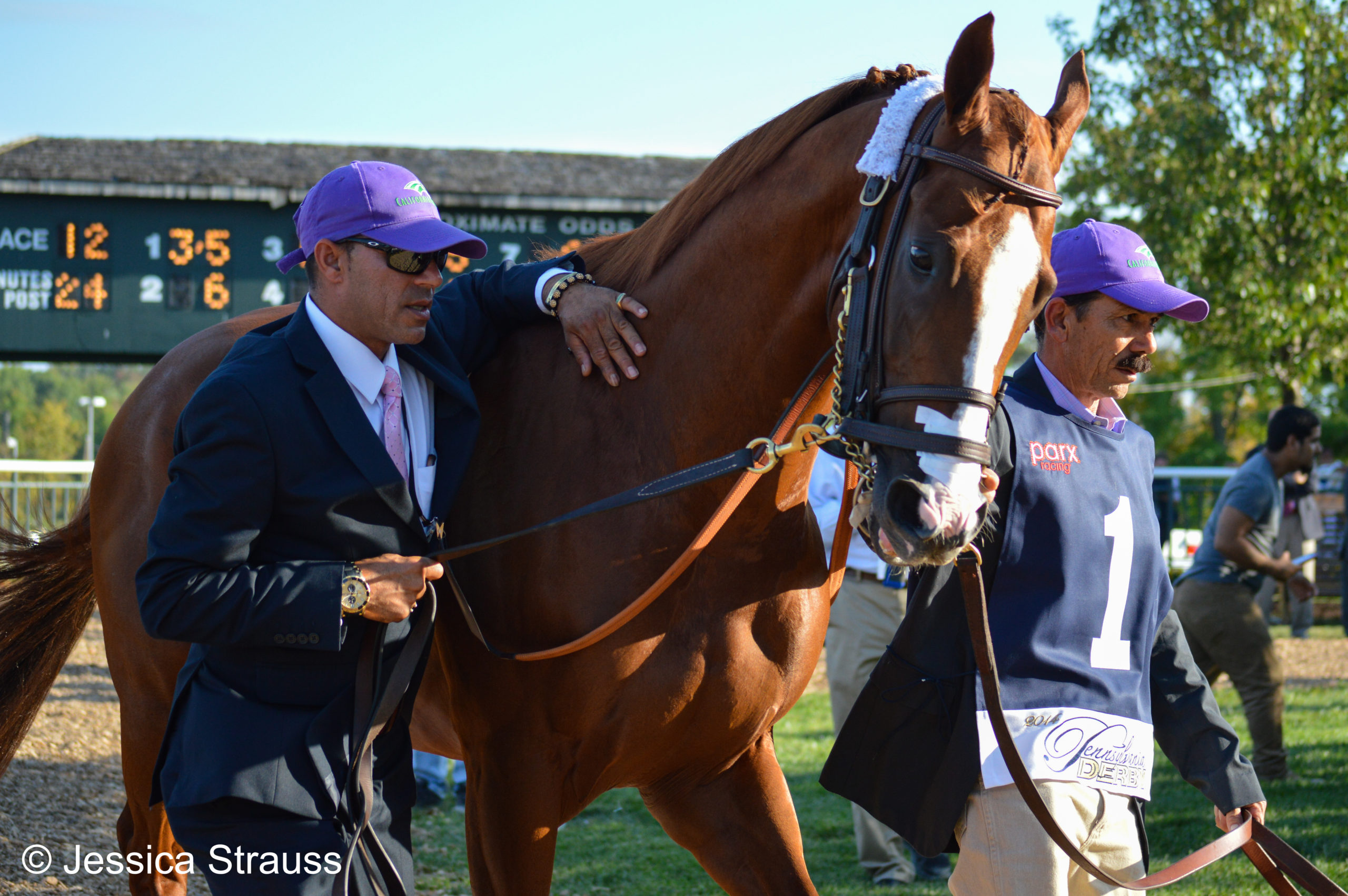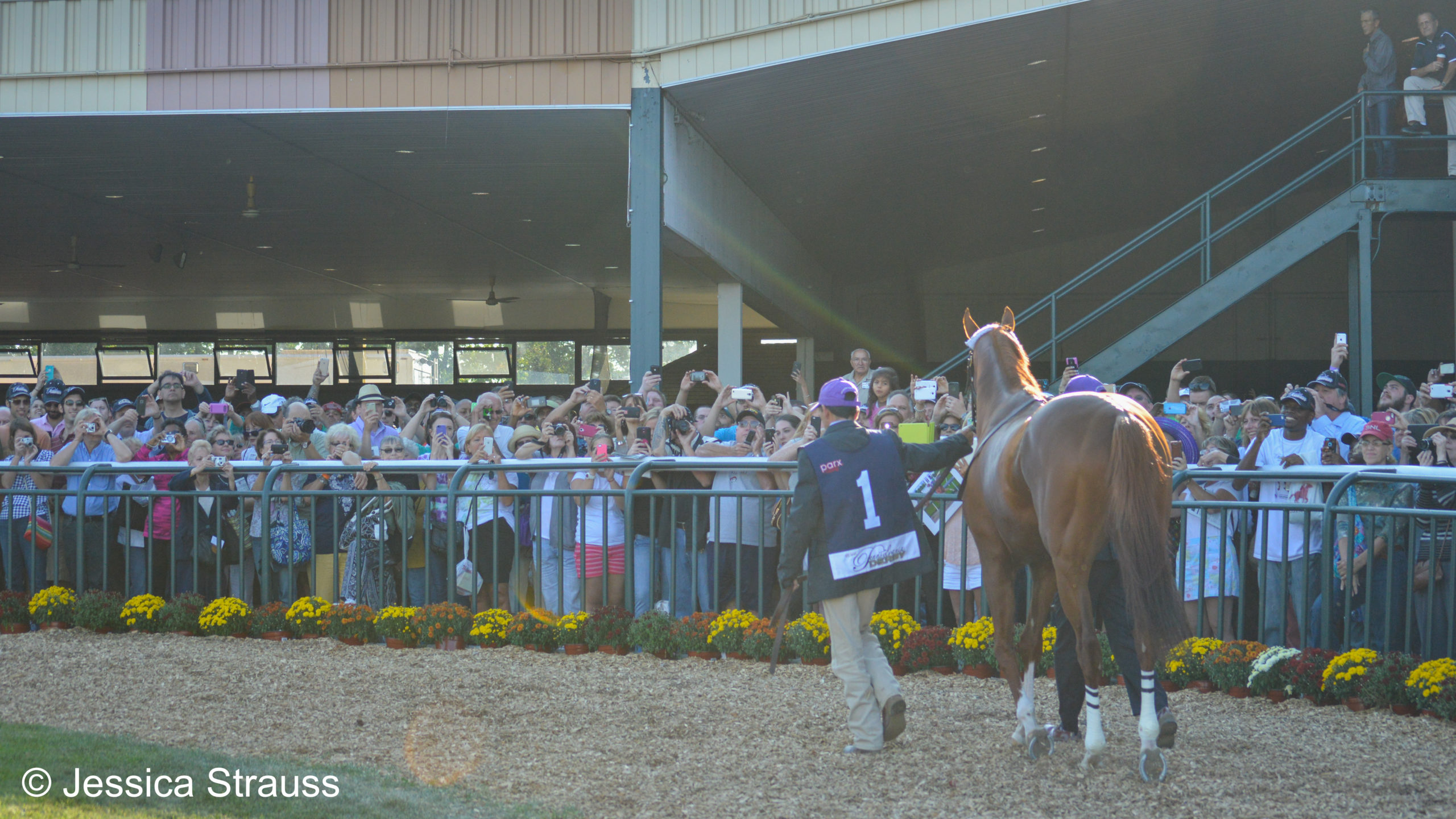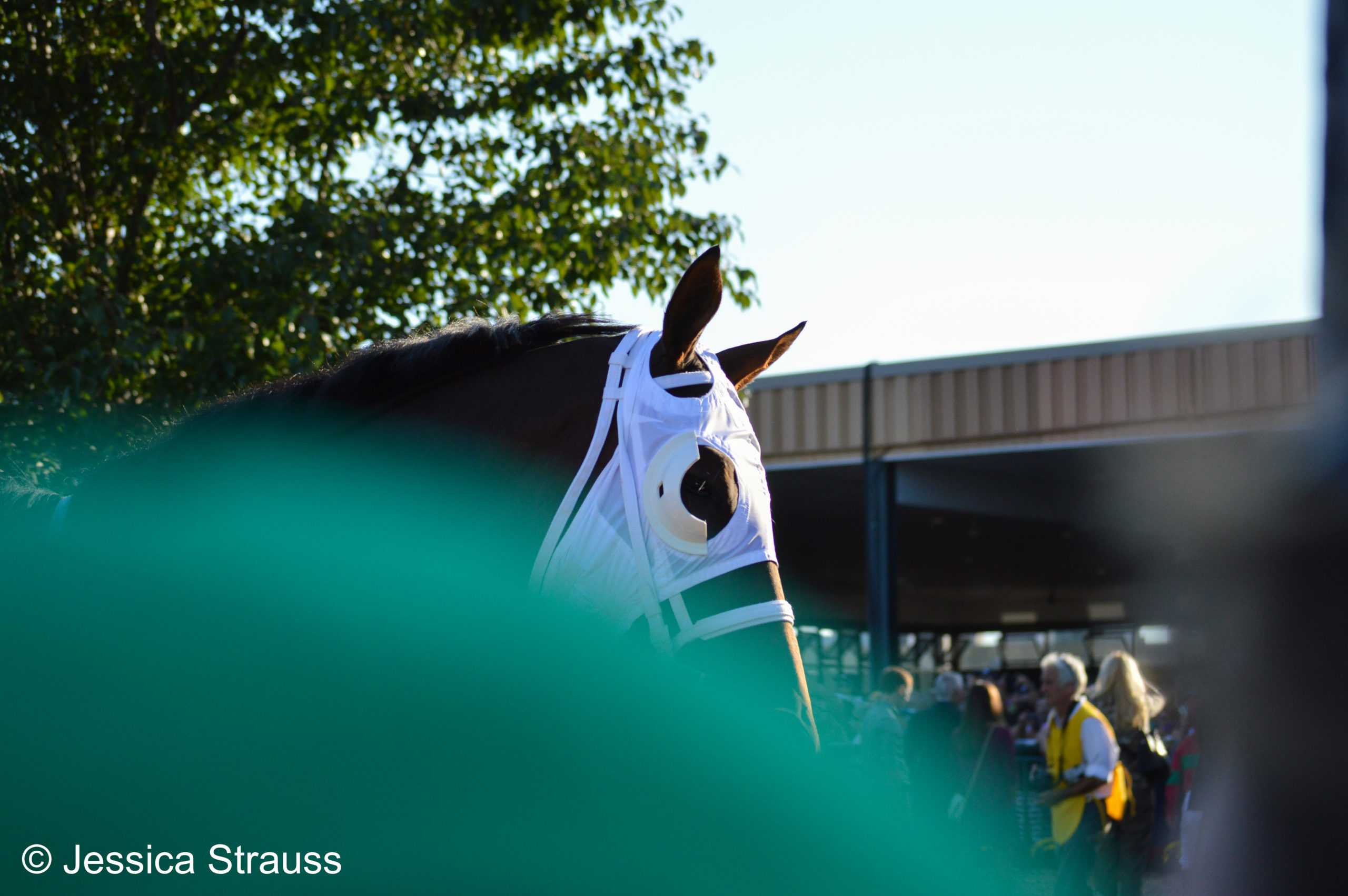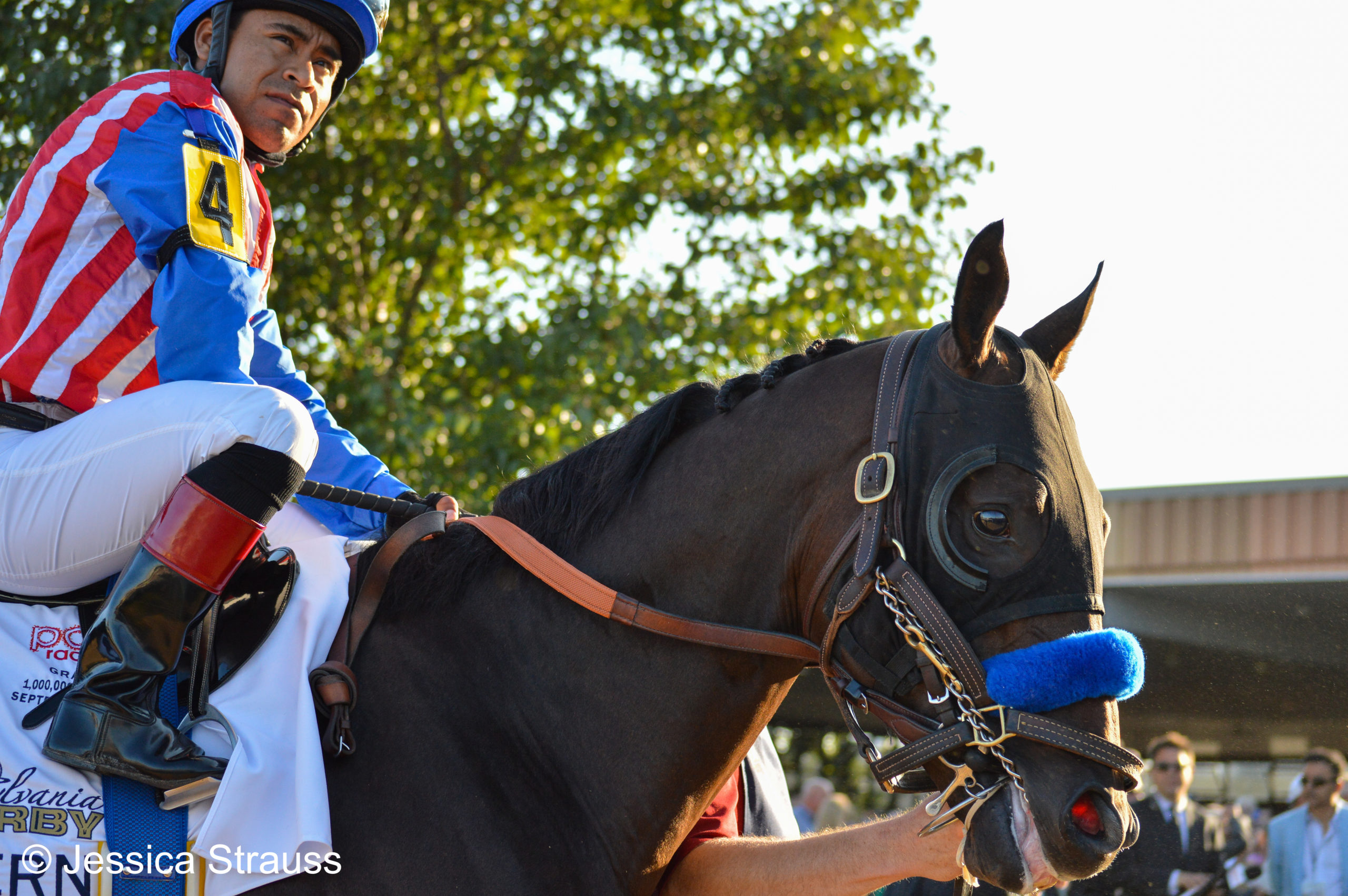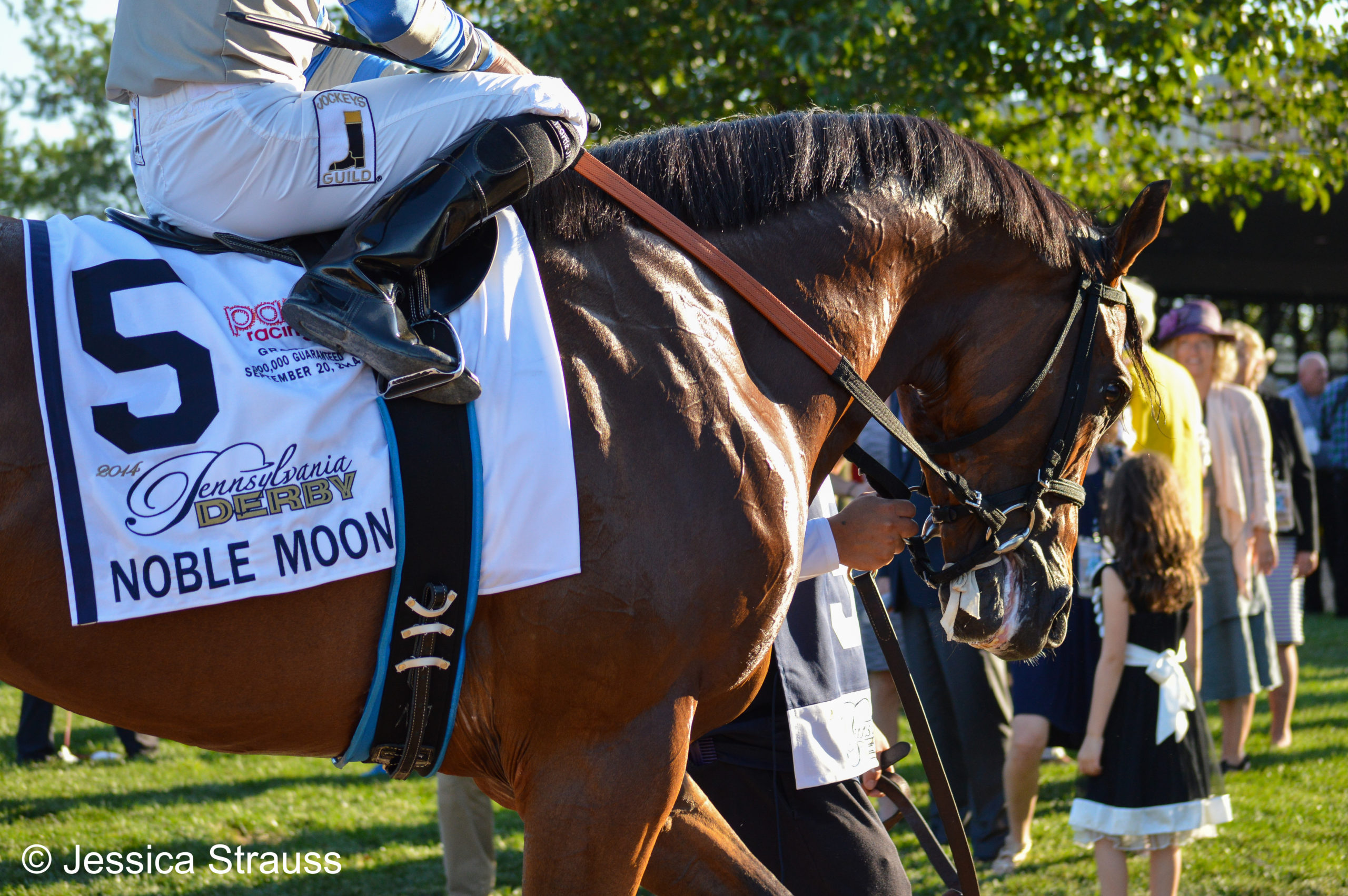 When the race began, Chrome was almost immediately boxed in as Bayern surged to the front. The Offlee Wild colt (pun intended) stayed there through increasingly fast quarters—and ultimately, made the eight horse race a solo act. California Chrome toiled some ten lengths behind Bayern, who set a track record for the mile and an eighth. California Chrome finished sixth.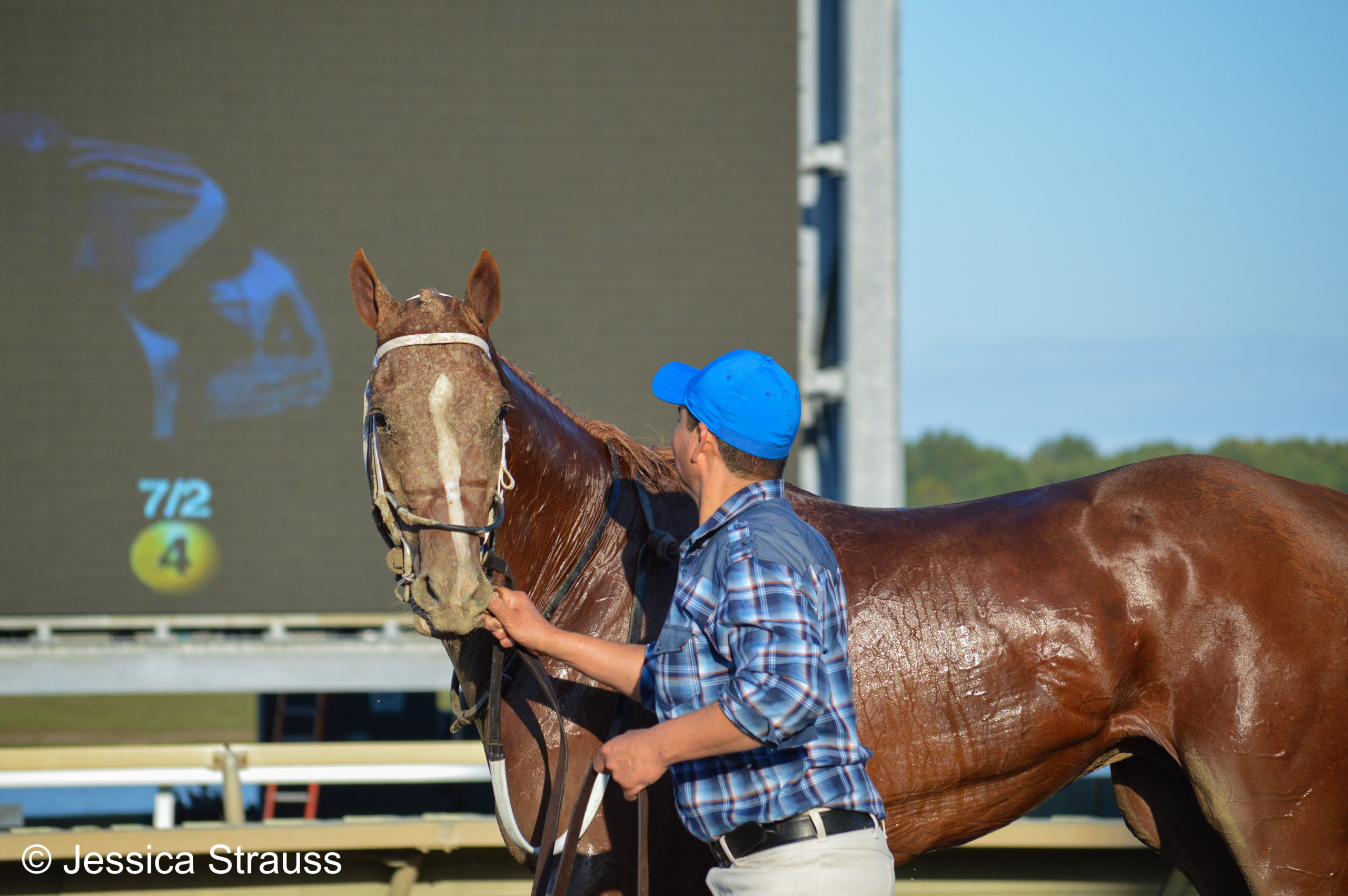 Despite the disappointing finish, Chrome was welcomed back with a pat on the head from groom Raul Rodriguez, an acknowledgement of the power and intensity of a racing effort. As California Chrome passed by—breathing heavily, veins streaming across his coat glistening with sweat—the crowd cheered. He didn't win that day, but his fans didn't care. He had already won their hearts.