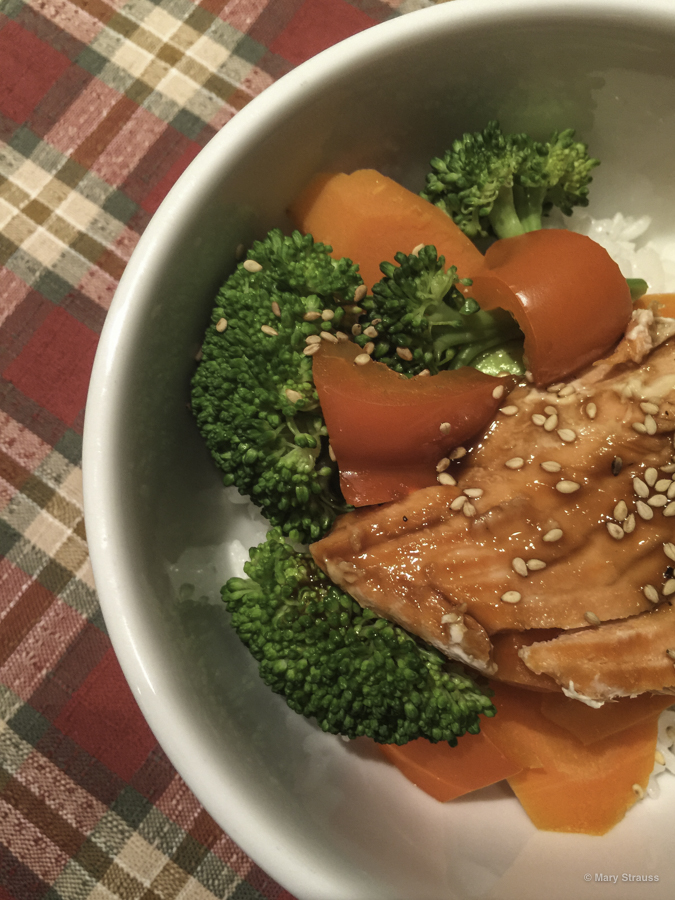 The same dish they have for takeaway at Whole Foods with better salmon and less sweet teriyaki.
Sushi rice (in the rice cooker or heat rice with 1 teaspoon canola oil and a teaspoon of salt and then for every  1 cup of rice  add 1 1/2 cup water).
Carrots, red pepper, and broccoli steamed (start carrots first, then red pepper, then broccoli).
Pan sear salmon however done you like (remove pin bones if needed). I have been using Silver Coho Salmon I found at Trader Joe's and it has been very tender and delicious.
Mix teriyaki sauce: in a measuring cup add a heaping spoon of cornstarch, then stir in soy sauce until you have a smooth slurry. Then equal parts soy sauce, mirin rice wine or sake, brown sugar. Add a teaspoon of grated ginger and fresh ground pepper to taste. Microwave a minute at a time until thickened or bring to a boil on stove.
Garnish with toasted sesame seeds. Maybe some thinly sliced scallions too.
Done.
Copyright © 2017 MRStrauss • All rights reserved