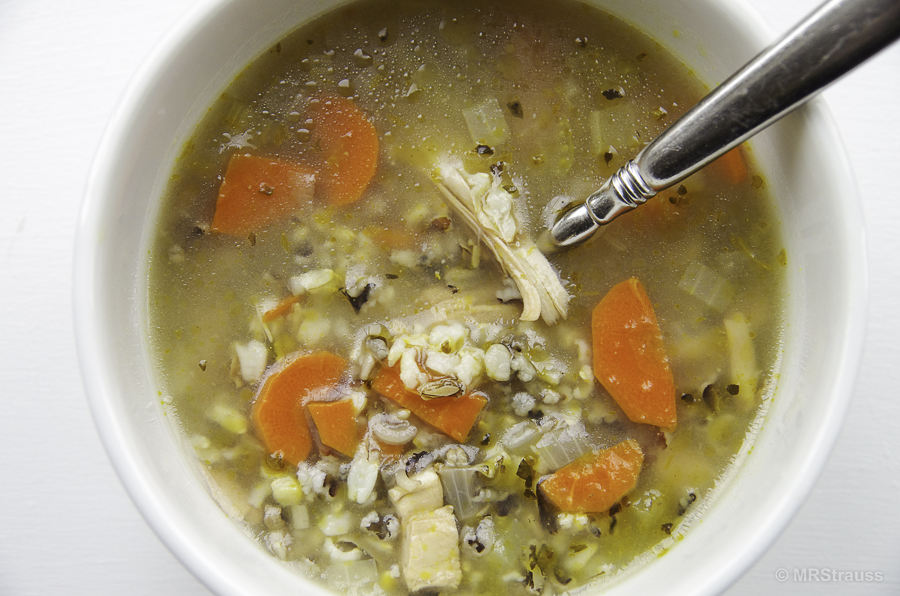 For the broth:
Turkey carcass
1 large carrot roughly broken
2 celery stalks roughly broken
2 bay leaves
1 yellow onion quartered with skin on
1 teaspoon peppercorns
1 teaspoon salt
2 sprigs of parsley
Put all ingredients in large stockpot add enough water to cover or just about cover the turkey. Bring to a boil then simmer for two hours or so skimming off any foamy stuff around the edge. Take out the big pieces and then strain into another pot or bowl big enough to hold the broth.
For the soup:
1 tablespoon olive oil
1 yellow onion medium dice
3 carrots sliced thinish
3 celery stalks sliced thinish
3 cups turkey meat pulled apart
1 tablespoon poultry seasoning (or half tsp each of sage, thyme, marjoram rosemary, pepper— I leave out the nutmeg due to allergies)
1 teaspoon salt—taste to adjust after a little while
3/4 cup Madeira wine
1/2 pound wild rice or mixed wild rice like Lundberg wild blend
All the broth plus water if needed
In a stockpot/soup pot add one tablespoon olive oil, teaspoon of salt and add onion, celery and carrot and cook on medium-high until softened. Add poultry season stir for a minute so it can bloom. Add 3/4 cup Madiera wine and turn heat to high and reduce about half. Add broth, turkey, rice and water if needed (I add water if needed to bring level up to about 4/5 of stockpot) bring to a boil, simmer for a few hours. Spoon off any foamy stuff around edge.
Copyright © 2018 MRStrauss • All rights reserved